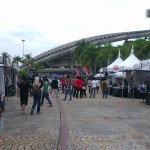 BlackBerry revealed today that it had acquired Scroon, a social media management company, last May.
Scroon specializes in social media management and was brought on board to help further all of the BBM services that BlackBerry has to offer. The company also manages accounts for Facebook, Twitter and other big-name companies.
Scroon is part of a strategy to profit from the BlackBerry Messenger instant-messaging service, said Alexandre Mars, the startup's founder, in an e-mail. Financial terms of the deal were not disclosed.